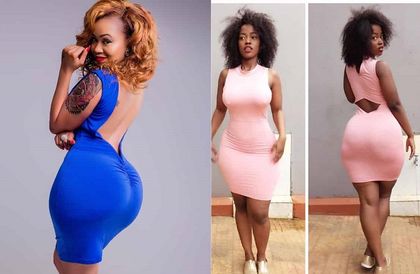 Socialites Vera Sidika and Corazona Kwamboka [ Photo/victormatara.com]
Men have different tastes and preferences. The shape of a woman's behind is among the aspects most men to at when approaching one of them. There are different types of women behind you are likely to come across. Here are four of the common ones.
1. Square
There are many women with square behinds. If the line between her outer thigh and the hip bone are perpendicular to the ground then she has this type of behind. Women with square behind look great when they put on heels. They can also stand out from the crowd with different forms of dressing.
2. V-Shape
Women with a line between the hips and pelvis have a V-shaped behind. The shape is common among women with broader shoulders. Women blessed with such behind look great when they dress in a pair of jeans.
3. A-Shape
This type of behind resembles a pear. The area below the hips is wider. The shape often stems from fullers thighs. Men often go mad when they see a woman with an A-shaped behind.
4. Round
Men cannot stop staring at a woman with a round shape behind. The shape is ideal for both short and tall women. A round behind looks great in different outfits. It also makes a man go crazy when he sees a woman passing by.